Our Liquid Leak Detection Alarm Units
Intended for all types of building, and in particular for office buildings, data centers, banks, museums, airport, stadiums, high-rise buildings, or department stores, our detection units allow automatic and instantaneous detection of water, acid or hydrocarbon liquid leaks.
Why install a leak detection unit?
To avoid recurring leaks and reduce the amount of network repair costs.
To minimize damage to your equipment, your data or your floor covering (parquet, tiles, etc.).
Designed in France by our team, our liquid leak detection units are made to measure after taking into account your specific needs.
We have put forward two technical solutions at your disposal:
Digital Addressable Alarm Unit with localization, which allows you to locate the leak within a radius of one meter. Pin point location of leak in floor map graphics. Redundancy loop back.
Analog Leak Detection Alarm Unit with localization and without localization, with audible and visual alarm.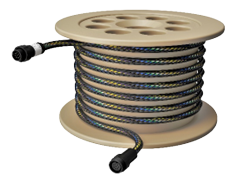 Typical detection time at 20°C:
Unleaded Gasoline:
2 minutes
Diesel/Jet Fuel:
5 minutes
Light Crude Oils:
10-14 minutes
Motor/Silicone Oils:
20-35 minutes
Bunker C Oil:
55-90 minutes
Description
The OL-HCS is a high-performance passive hydrocarbon detector specifically designed for detecting the unwanted presence of a wide range of liquid hydrocarbons. This modular and easy to connect sensor cable provides quick reaction to light and heavy hydrocarbons and can be used in outdoor environment. The detected hydrocarbons are primarily gasoline, diesel, jet fuel, motor oils, lube and transformer oils, etc. The OL-HCS sensor cable is assembled in factory with heavy-duty corrosion-resistant IP68-rated waterproof connectors.
The sensor is engineered for reliable operation in both indoor and outdoor conditions. The waterproof connectors allow the sensor to be immune to non-permanent immersion in water. The semi-conductive sensor material is extremely durable and can withstand continuous exposure to temperatures in excess of 100°C. The sensor cable is UV resistant, anti-termite and anti-rodent and can be used in tropical applications.
Features and Benefits
Detects reliably all fuels and motor oils
Reusable after being contaminated
Fully passive construction, expected service life of 20+ years
Insensitive to vibrations, methane, water
Wide operating temperatures range
Reduced maintenance and easy troubleshooting
Can be used indoor / outdoor / in direct sunlight or buried with suitable accessories
Typical Applications
Monitoring of diesel generators and associated tanks and pipework
Monitoring of Military and Scientific fuel depots in demanding environmental conditions
Leak detection in commercial buildings, hospitals, data centers, etc.
Monitoring of oil-filled power transformers, lube oil storage tanks, etc.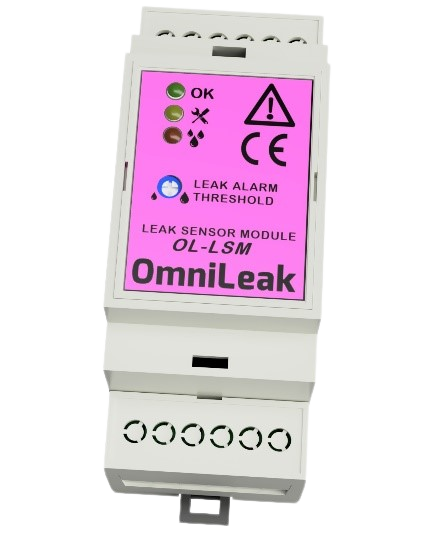 Description
The OL-LSM is a high-performance data acquisition module designed to detect leaks of refined products or crude oil in extreme environmental conditions. The product is offered in a 2-module housing mounted on DIN rail. The measurement interface is suitable for connection to a reusable, fully passive hydrocarbon probe or detector manufactured by OmniLeak.
The maximum length of the sense cable is limited to 30m/100ft. Advanced measurement techniques as well as data processing algorithms are used to provide fast detection over a very wide temperature range. These detection modules offer industry standard analog outputs (0-10V), dry contacts or current loop (4-20mA) for flexible integration with third-party monitoring stations or PLCs. For use in hazardous areas, the OL-HCS sensor cable must be connected to the detection module via a Zener barrier, with the OL-LSM module installed in the safe area.
Features and Benefits
Reusable after contamination
Real-time transmission of sense cable contamination
Dynamic monitoring of sense cable contamination
Adjustable alarm threshold
Reliably detects all crude oils at very low temperatures
Very wide operating temperature range
Capable of detecting vapours diffused into the ground after leaks from underground pipes
Typical Applications
Remote oil and gas facilities
Monitoring military and scientific fuel depots, generators and pipelines in demanding environmental conditions
Leak detection in refineries, tank farms, shut-off valves, main pipeline sections
Monitoring of isolated fuel tanks and emergency generators
Fuel leak detection in distribution and retail facilities