OL-ASAT7 is a high-performance 7-inch touchscreen controller designed for powering and interfacing with acquisition modules manufactured by OmniLeak. The communication with these modules is based on a proprietary long-range failsafe bus. The controller is offered in IP54/NEMA 3S water-resistant wall-mounted enclosure, to be installed in technical rooms and other premises where dripping water might be potentially present. The primary use of OL-ASAT7 is to monitor one or two circuits with long detection strings for conductive liquids or organic solvents, hydrocarbons of up to 300 m each. The communication frontend permits robust and reliable operation even in case of partial failure of the circuit of acquisition modules. Each individual acquisition module is connected to an independent sensor and the system provides true multi-leak capability. All compatible acquisition modules are powered by the terminal through the proprietary bus and the need of additional infrastructure for power supply is considerably reduced. The maximum distance covered with this wired layout (accumulated sensor and jumper cables) is in excess of 1 km. The optional loopback wiring increases the system reliability in case of cable breaks and shorts. This provides a redundancy architecture. Alarm threshold adjustment on each sensing cable installed is possible.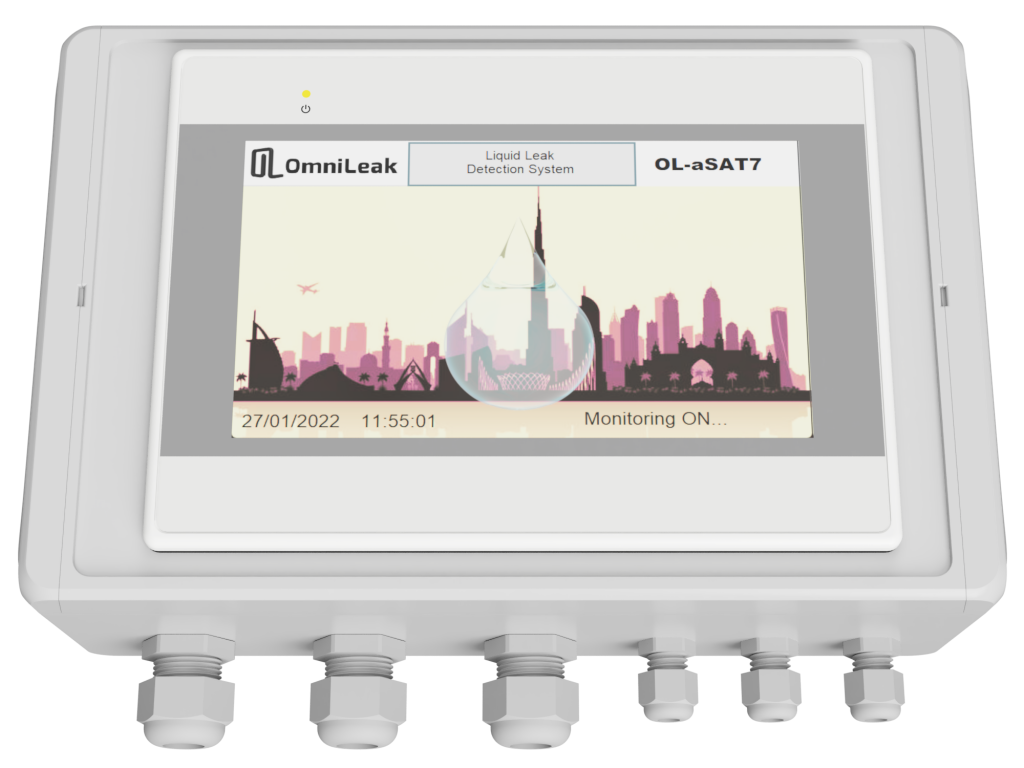 Photos and illustrations are not contractually binding and are subject to change without notice.
The intuitive password-protected user interface on the touch panel provides flexible configuration and adjustable alarm threshold. High-level interfacing to BMS/DCS/SCADA is implemented through Modbus RTU, Modbus TCP, email alerts and SNMP Traps. Configurable dry contacts (number 12 – SPDT) for general alarm, leak alarm, power failure and trouble are also available.
Very long range of leak detection circuit & a pinpoint location of fault in the circuit
Easy T-branching – no special devices/components needed
Adjustable alarm threshold (sensitivity 1-9)
Can be installed in humid environments
Able to interface with sensor modules for various types of liquids as water, acids, bases, hydrocarbons, organic solvents, etc.
Leak detection in data centers and commercial buildings
Monitoring of storage tanks and fuel lines of emergency generators
Monitoring of Military and Scientific facilities
Leak detection in chemical and petrochemical plants
Compatible Acquisition Modules and Remote Devices

Smart sensing cable for detecting conductive liquids indoor. Contains an addressable miniature electronic device embedded in the male connector. Maximum length of sensor: 15 m

Acquisition module for interfacing with sensor cables for detecting unwanted presence of conductive liquids in indoor environment. Maximum length of sensor string per module: 15 m
Display Size and Resolution
295 x 260 x 125 mm (11.61 x 10.24 x 4.92 in.)
UL94-HB (UL94-V0 available on request)
IP54/NEMA 3S – indoor use only (IP65/NEMA 4 available on request)
Operating Temperature Range
Accumulated length of Sensor and Lead Cables per channel: 1 km
80dB max. Buzzer with Silence button
Power Failure + Leak + Cable Break :- SPDT (NO/NC)
SPDT – Switching current – 0.5 A at 250 VAC 1A at 30 VDC
Supported Protocol (Monitoring)
Modbus RS485, Modbus TCP/IP, Bacnet over IP (External Gateway)
Wall-mounted (Flush mount possible)
OL-ASAT7 alarm terminal is an agency-approved device, with cULus Listed display controller. It shall be used according to the relevant local regulations and installed by qualified personnel.
Dual-channel alarm terminal for circuits with a maximum of 10 acquisition modules each, with Modbus RTU/TCP, SNMP Traps and 12 SPDT relay outputs
OL-ASAT-12R-485 or OL-ASAT-12R-TCP
Dual-channel remote alarm terminal without display with a maximum of 10 acquisition modules each, with Modbus RTU or Modbus TCP and 12 SPDT relay outputs